Multiple businesses are gaining tremendous benefits with the help of cold email outreach. If you are someone wondering what it is and how you can use it for your business, this post is for you.
In this post, we will cover what is cold email outreach, how can you use it for your business, and how to run a successful campaign.
So, without wasting any time let's dive into the content.
What is Cold Email Outreach?
Cold email outreach is basically a practice of sending out promotional emails to people who don't know you and haven't yet interacted with your business.
Emails sent to such prospects are called "Cold Emails".
The main idea for cold emailing is to generate interest and ultimately drive sales.
However, just understanding cold email outreach isn't enough. To make it effective, you first need to bypass the spam filters. To do so, we first need to understand why emails land in spam.
Why do emails get stuck in spam?
Whenever you send cold emails, the spam filter on that particular recipient's inbox has to decide whether that email is spam or not. To do this, it relies on the following factors:
1. Sender reputation:
A lack of sender reputation is the main reason why cold emails get caught in spam. The spam filter will check the average past opening rates, bounce rates, and engagement rates for similar emails sent from your email account. It will also verify whether people have reported these emails as spam.
2. Content:
Then the content of your emails is the second most important factor that the spam filter will look for. If your email content looks spammy, suspicious, or contains unsafe links, your emails will be considered spam.
3. Sending pattern:
Sending too many identical emails in a short span of time or using bulk email marketing servers will also land your emails in spam, especially when they are cold. In fact, following such a practice regularly, will get your email account and domain name blacklisted.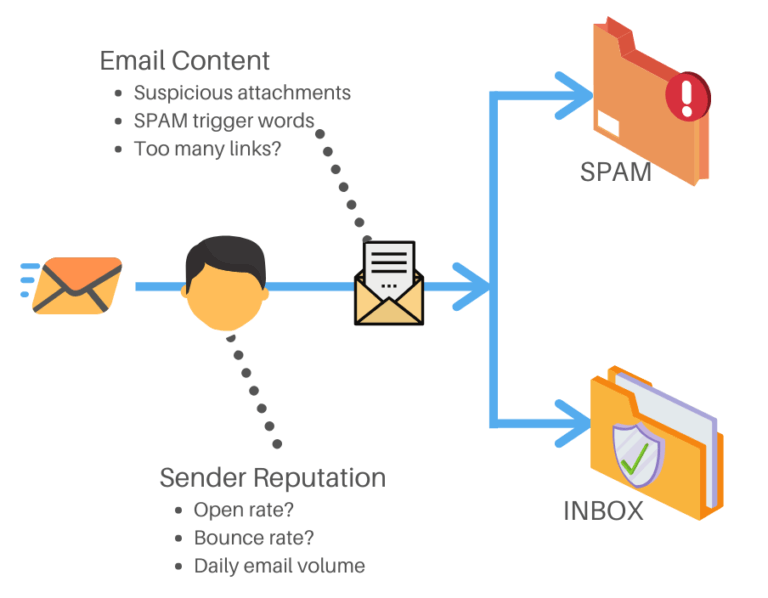 How can you bypass spam filters?
Here are a few things you can follow to knock down the spam filters.
Avoid buying a mailing list
Use a cold email automation tool like SafeMailer. It will help you mimic a human-like sending pattern.
If you have a new email account, warm up your account.
Make sure your emails are valuable to the readers to increase the click-through rates.
Avoid clickbait subject lines as they highly reduce your open rates.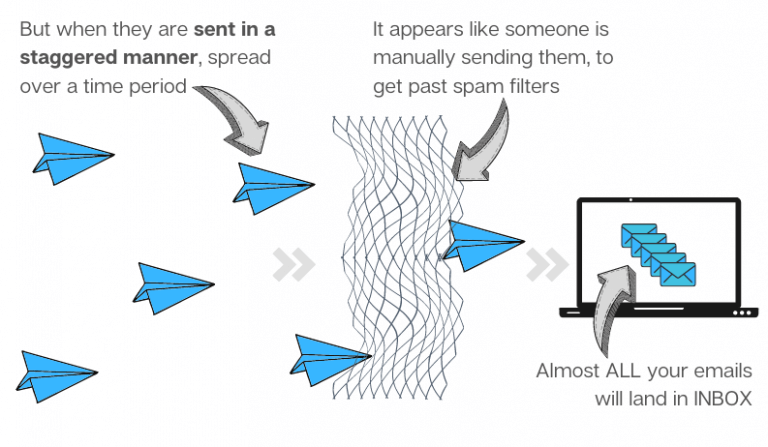 How can cold email outreach benefit your business?
Once you know how to successfully bypass the spam filters, cold email outreach can help you to:
Cold emailing is basically the practice of sending emails to new prospects.
Using cold emails, you can introduce your services and products to new prospects, thus improving your brand awareness.
Cold email outreach allows you to generate leads. It helps you to reach out to prospects and make them aware of your products and services.
You can simply start by sending an introduction email and eventually moving towards converting them into valuable customers by building a relationship.
You all know how important networking is in today's time. It may always not be possible to meet professionals face-to-face.
You can simply reach out by sending cold emails that introduce who you are and what your business is about. If they find your efforts to be genuine, you can effectively build connections.
How to run a successful cold email outreach campaign?
Here are a few simple steps you can follow: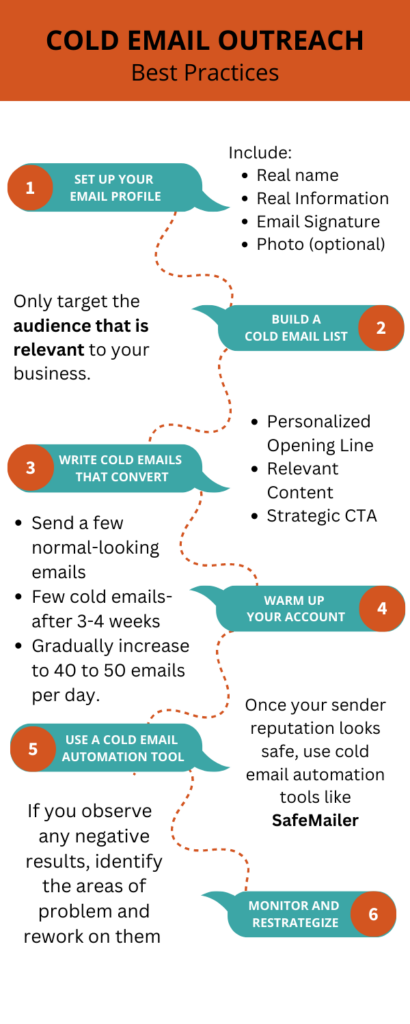 1. Set up your email profile
You don't want to act like an alien with your prospect. So make sure to set up your email profile correctly.
Add your real name, photo (optional but effective), your real information, and also an email signature. This will help you create a more genuine-looking profile, thus, reducing the chances of your emails being ignored.
2. Build a cold email list
Though cold emailing means sending emails to new prospects, don't send messages to every single person alive on this planet.
Only target the audience that is relevant to your business.
For instance, suppose you are a web development company. You can explore the business profile present on LinkedIn and get their emails.
This will help to create highly targeted cold emailing campaigns.
3. Write cold emails that convert
Simply follow these three steps to write engaging cold emails.
The personalized opening subject line
Would you read an email that starts with something you are not interested in? Definitely not.
Here's where personalization plays an important role. It can help you boost your open rates dynamically. In fact, a stat from FinancesOnline state that 47% of the recipients decide to open the email based on the subject line alone.
Once you have built your cold email list and know who your target audiences are, you can easily identify their pain points and write personalized opening lines.
Now that you have a great opening line, propose your value.
Your prospects won't bother about whether you have won an award or do something special every day. So, directly jump to the point and talk about the reason to reach out, what can you do to help them, and how a relationship with you will benefit their business. You can also provide some examples of how other companies are benefiting from your service.
This point is pretty straightforward. Decide what you expect your prospects to do after reading your email.
Whether you want them to signup for a solution, schedule a meeting, or reply to your email, just simply add a CTA and you are done.
Tip: Make sure to have only one call to action per email.
4. Warm up your account
In case, you have a new domain, warm it up before sending hundreds of emails per day to build a meaningful sending reputation.
Because, as we discussed before, sending reputation is one of the important factors considered by spam filters for deciding whether to send your emails to the inbox or to spam.
Now, let's explore how can you warm up your new account.
You can start by exchanging a few normal-looking emails with people that you know. This will indicate real-world usage from your new account. Do this for a few days.
After 3-4 weeks, as you have your email list and email ready, start manually sending a small number of cold emails per day. Probably, 10 to 15.
Keep track of email deliverability and gradually increase your email volume to 40-50 per day.
Check your sender reputation/sender score with an online tool.
5. Use a cold email automation tool
You can begin using cold email automation tools, once your sender reputation looks safe. One such best tool as per knowledge is SafeMailer.
This tool will allow you to spread out your emails over a period of time, thus, mimicking a human-like sending pattern. Eventually, helping you avoid spam filters and landing your emails in your recipient's inbox.
6. Monitor and re-strategize
Regularly track the opening rate and email deliverability rate of your emails, once you get your cold email outreach campaign running.
If you observe an increase in your bounce rate or a decrease in your open and click-through rates, it's time to identify the areas of problem and rework them.
Conclusion:
Cold email marketing is a great technique used by businesses to generate leads, build brand awareness, and for networking. However, a proper approach is a must.
Now that you gained a good grasp of it, get ready upscale your business.