When many people think about email marketing, they think about sending 10,000+ emails per day, shiny HTML email templates, and bulk email marketing platforms like Mailchimp.
But this way of email marketing only works in certain cases, when you have a strong sender reputation, high-quality email content, and explicit consent from your recipients to send them marketing emails.
If you don't have any one of the above, 80% of your marketing emails will go to SPAM and only 5%-15% will be opened.
But does it mean email marketing is only for big businesses and established brands? Absolutely NOT!
That's why we created an Ebook to help small businesses, start-ups, freelancers and solo entrepreneurs. In this cold email mastery pdf, you will find cold emailing best practices, tips and tactics to get new leads for your business step-by-step.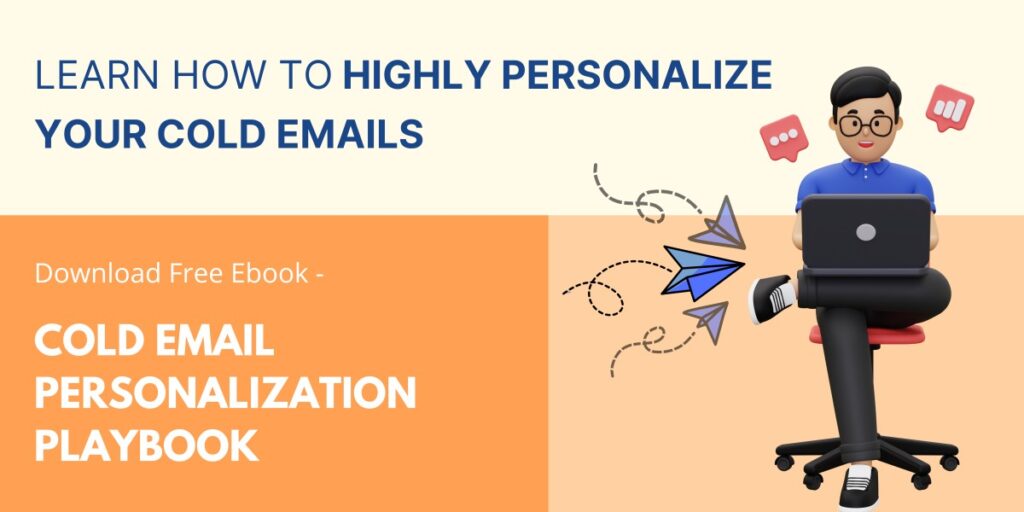 In this Ebook you will learn how small businesses, freelancers and start-up companies can use cold email marketing tactics to land their emails in INBOX, get people to engage with them, and drive steady lead generation with cold emails.
We will start by looking at how spam filters work and why certain emails get trapped in SPAM. Then we will look at the technical aspects of improving your deliverability. Next, we will give you a few tips to write better engaging emails and subject lines.
Finally, we will look at how you can put it all together to run cold email campaigns for lead generation.
Contents of the Ebook –
Why marketing emails can get stuck in SPAM?
One of the most common reasons your emails get stuck in the spam is the lack of sender reputation.
While, content that appears spammy or suspicious, sending too many identical emails, using a new email account with no sender reputation, or sending ineffective cold emails that are ignored or deleted are other important reasons.
To avoid these issues, focus on creating relevant and valuable content, building a positive sender reputation, and tailoring your emails to the specific needs and interests of your recipients.
To bypass spam filters when sending cold emails, it is best to avoid buying mailing lists and sending bulk email blasts. Instead, use cold email automation tools that mimic human-like behavior.
It is important to warm up new email accounts and set up separate domains for marketing emails. This minimizes the risk of damaging your main business domain reputation.
Additionally, make sure your emails offer genuine value to readers and avoid using clickbait subject lines.
Refer to the ebook for a more detailed explanation.
Cold / drip email automation
Sending marketing emails to a list of people who have not explicitly signed up for your regular email marketing apps can trigger spam filters.
Cold email automation software can bypass these filters. They can help you mimic human-like sending behavior and spread out emails over time, sending them individually a few minutes apart.
This leads spam filters to believe that the emails are being manually sent. Hence, improves the chances of landing them in the inbox.
In addition to using a cold email automation tool, building a positive sender reputation is crucial to avoid spam filters.
Most spam filters consider a sender's track record and historical reputation, which can be damaged if a new domain sends too many emails in a short amount of time or if many of the emails are ignored.
This phase of carefully building a sender's reputation is known as email warm-up.
Refer to the ebook to learn how you can warm up your email account.
Having compelling subject lines that encourage recipients to open them is equally important.
Subject lines that are personalized, create urgency, build familiarity, pique curiosity, provide social proof, and establish authority are some effective tactics.
However, clickbait subject lines should be avoided as they can harm the trust in your brand and your sender reputation in the long term.
It is also important to write valuable and engaging emails to maintain a good sender reputation and get concrete outcomes from a cold email campaign.
The email length should be short, and the experience highlighted to build trust and credibility. Building familiarity by touching upon shared interests or mutual acquaintances can also help.
Focus on value, not features, and place a clear call to action. Avoid email attachments and minimize links and images in the email to prevent triggering spam filters.
Regularly tracking the opening rate and deliverability of cold email campaigns is important.
If there is a sudden drop in open and click-through rates, an increase in bounce rate, or your emails don't get delivered to people on major ISPs, it's time to suspect something is wrong with your email deliverability and sender reputation.
Remember, it can be difficult to reverse the damage. All the effort and cost invested in email marketing could be wasted if your emails get flagged as SPAM.
Gmail + SafeMailer for cold email lead generation
SafeMailer has developed an email automation workflow that connects Google Sheets, Docs, and Gmail. This makes it easy to maintain mailing lists and create email templates.
This solution is flexible and customizable and can be 10X cheaper than other solutions like Mailshake, Woodpecker, and Yesware.
Additionally, the app can be connected to Google Analytics to track email campaign performance.