Most SaaS (Software as a Service) businesses are online subscription-based businesses. Users pay for monthly or yearly subscriptions when they find your SaaS platform valuable.
Therefore the success of any SaaS business is heavily going to depend on user engagement. If people log in and regularly use your SaaS platform, then only they are likely to continue paying for SaaS subscriptions.
That's why you want to engage the new user as soon as they sign up on your platform and get them to fully utilize your service so that they can become your long-term customers.
Let's look at some welcome email sequence templates and understand how they can get new users hooked on to your SaaS platform.
Table of Contents
1. User psychology and the 'Hooked' model
2. Important ingredients of onboarding emails
3. Welcome email sequence templates
3.1 Todoist
3.2 Intercom
3.3 Sendgrid
4. Automate onboarding emails with SafeMailer
5. FAQs: SaaS onboarding email sequence
User psychology and the 'Hooked' model
You will have a successful SaaS business if you can get your users habituated to using your platform. But how do you develop a habit in your users? Or more broadly how are any habits formed?
Author Nir Eyal explores the psychology behind habit formation in his book – Hooked. His book also gives us a framework on how we can leverage basic human psychology to build healthy habits around our products which can benefit our users and turn them into happy long-term customers.
Hooked Model
Nir Eyal's 'Hooked' model says that habits are built when a user goes through a cycle of – "Trigger > Action > Reward > Investment", repeatedly enough that the cycle gets deeply linked to the user's internal psychology.
That can be a lot to process if you're new to the hooked model. So let's break it down with an example of a user "Eric" signing up for Facebook for the first time.
When Eric signs up for the first time, he connects with a few of his friends. A few hours later one of his friends' posts on Eric's wall to welcome him to the social networking platform.
Facebook sends a push notification and an email to Eric informing him that someone just posted on his wall – this it the trigger.
Curious, Eric immediately taps on the notification and goes to Facebook to find out what was posted on his wall – this part is the action taken by Eric.
He is delighted to see a post by his close friend Abby who he hasn't seen for a few years – this is the (variable) reward that Eric gets for his action.
Intrigued by how he is able to connect with old friends via Facebook, Eric goes ahead and connects with more of his old friends from school – this is the investment that Eric makes on the Facebook platform.
What happens next?
As more and more friends connect with Eric, they send him posts, pics, and images, and each time Facebook sends him a trigger (email or notification) to get back on the app. He then takes the action of opening the Facebook app. There is a variable reward waiting for him on the Facebook dashboard – a message or post waiting from his friends. Whenever he is delighted by the reward he makes an investment of his own time by sending messages, replies, and posts. And then the whole cycle can repeat.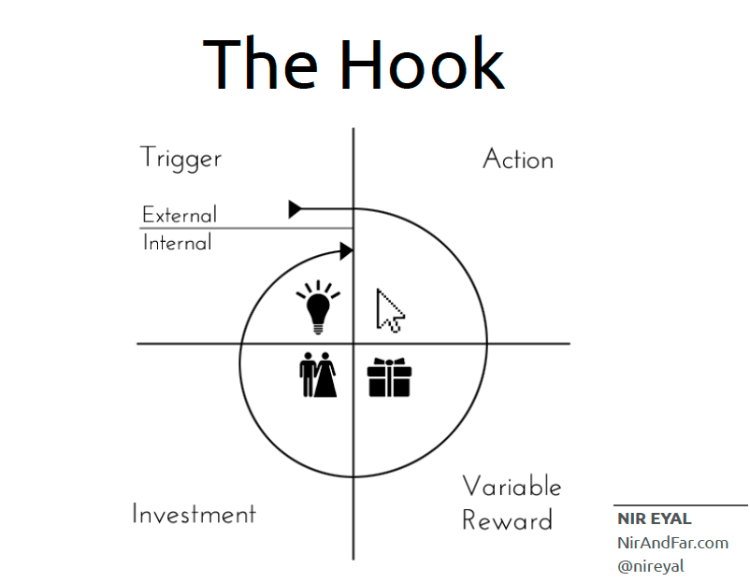 As the cycle repeats again and again, the external trigger or email or notification from Facebook gets connected with an internal trigger in Eric's mind, which has always been there – the basic human need for social interaction.
After a while, Eric won't need an external trigger from Facebook. Given the social nature of average human beings, he will feel the urge for social interaction at least a few times a day. And almost as a reflex action, he will be guided by his mind to open Facebook.
A strong habit has been formed linking Facebook with Eric's need to socialize.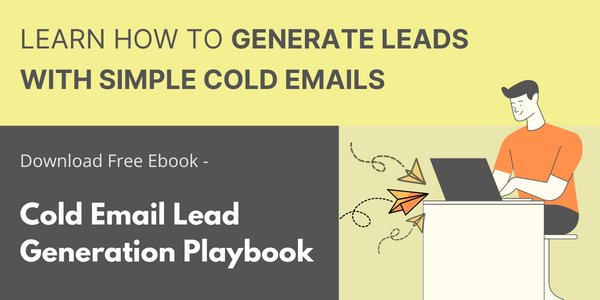 Important ingredients of onboarding emails
When a new user registers on your SaaS platform, your primary goal should be to put that user thought multiple cycles of trigger > action > reward > investment, to help them build a habit of using your platform.
Use your welcome email sequence to trigger the user to put him through the 'hooked' cycle.
Here are a few points to take care of, if your hooks are to work properly.
Each email should be a trigger for the hooked cycle.
Make the actions as frictionless as possible.
Try different possible rewards to hook a new user.
Make sure you trigger the user at the correct time. Your email is useless if it gets ignored.
If user responds positively to a particular trigger-reward combination, exploit it further.
The initial usage from a user is his time investment on your platform. Use it to set up the trigger for next cycle.
Welcome email sequence templates
Now that we are aware of the key ingredients of an effective welcome email sequence, let's look at some templates used by well-known SaaS players.
Todoist – welcome sequence for freemium service
Todoist is a very popular todo list app with over 5 million users worldwide. It is a freemium service with majority of the active users being in the free category. Todo list offers a very useful and smooth free tier version of its app. But that simply isn't enough to convert millions of free users into paying customers.
Before someone becomes a paying customer, todoist needs to get them hooked onto their service.
In part, this is possible because of a powerful yet frictionless user experience (UX) in the app itself. But it is also partly possible because of their onboarding for the new users. Now let's look at their welcome email sequence template.
Email1: Start organizing life with Todoist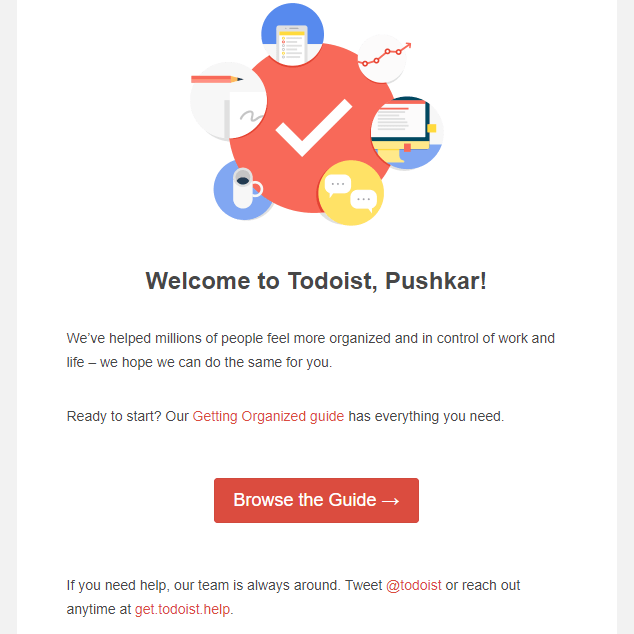 The first email welcomes the user and answers the most important question in a new user's mind – how do I use this thing? Note how todoist support team has made themselves available on multiple channels. Moreover, the big red button takes you to a user guide which is full of screenshots, GIFs and very easy to follow.
Email2: Take your to-do list with you, everywhere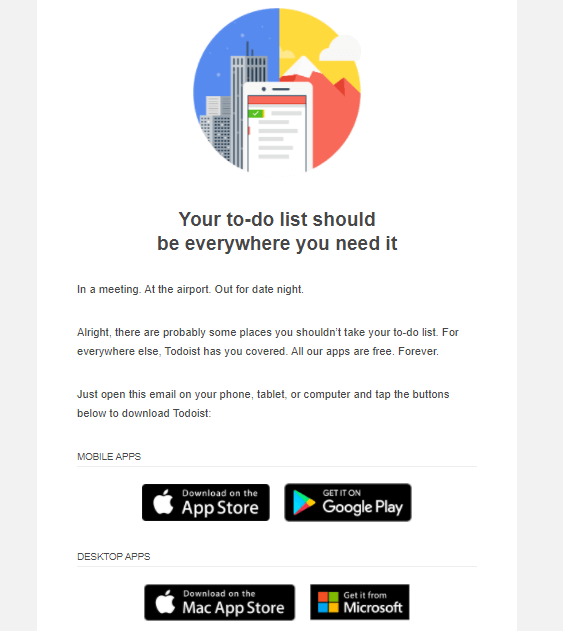 In the second email, they try to bring your attention to the multiple native apps that they have on ios, android, windows etc. This is important because native apps are going to make it easier for the new users to access the todo list and get hooked on it.
Email3: Get Todoist's free apps for Mac & Windows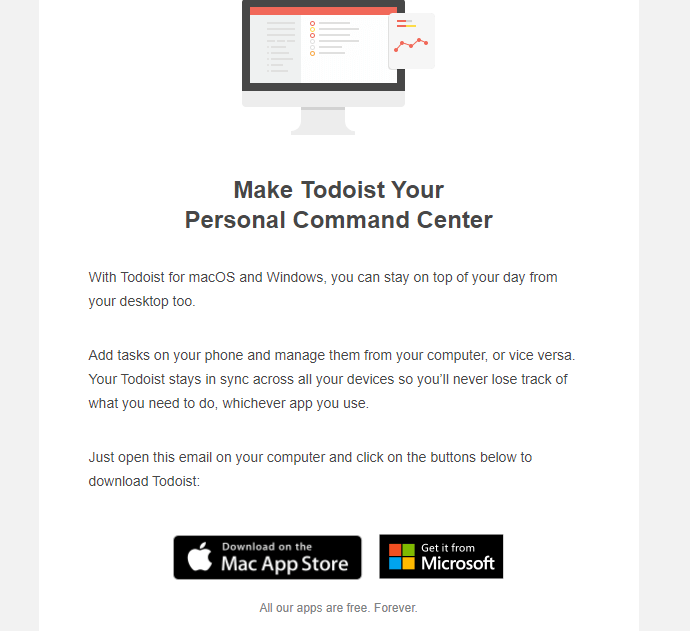 If you don't download and install any of the native apps, they just send you a gentle reminder to let you know those apps are available.
Email4: Try out Todoist Premium for free
If a user signs up for the free tier of todoist, they will first try to get that user hooked on the service. Oce he is hooked, they inform him about the premium tier and why a free trial of premium features would be a good idea.
Email5: Your 2018 Year in Review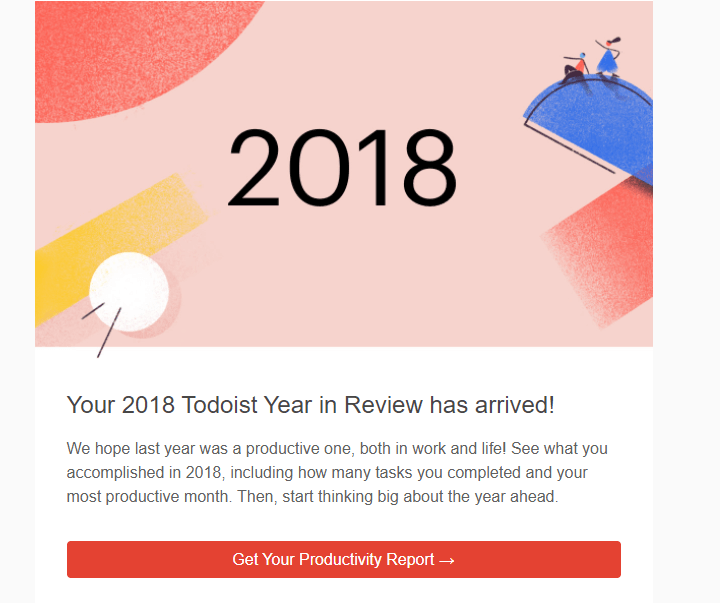 Once you are a regular user, they will reward you with a productivity report to make you feel good about the work you have done 🙂
Along with this reward they also set a target for you to go to the next level of productivity – for getting you to invest more of your time on todoist.
Intercom SaaS onboarding email sequence
Intercom helps online businesses, including many top SaaS businesses to onboard and support their customers. They are big advocates of great user experience and Intercom platform enables a SaaS platform to provide a smooth onboarding experience and communication.
If the intercom is helping others with customer onboarding, then it must already be ahead of the curve already, right? Let's check how they are doing in terms of welcome emails.
Email1: Welcome to Intercom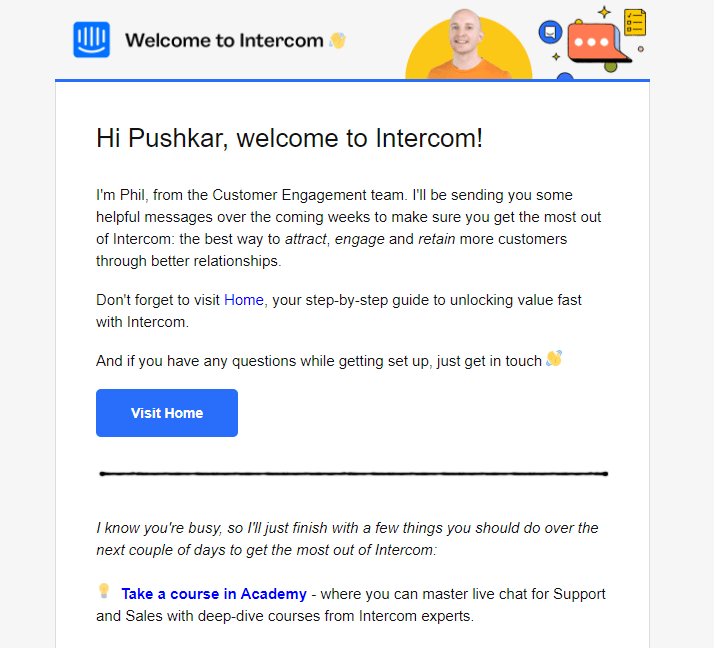 The first welcome email is quite simple and clear. They are not trying to force-feed a lot of information. There is one clear CTA to visit the dashboard and then for interested users, there is a link to the Intercom Academy.
Intercom offers a broad solution to sales, onboarding and support teams. And commonly their approach is to send highly contextual, behavior based emails or messages. Their first email looks quite generic because at this point they may not have much information about the new user.
But going forward they will track a user's interests, role and then accordingly send contextual emails.
Email2: Introducing Early Stage Academy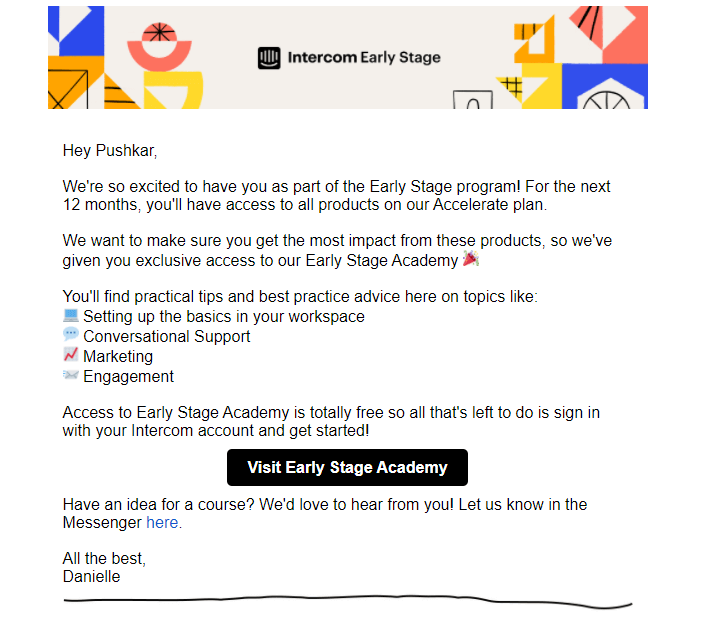 This email is sent to the administrator or owner of the intercom account, who is most likely to set up the workflows and integrations for the platform. Therefore they send a link to the admin user where he can learn the basics of setting up intercom. This may not be needed to other users who are only responsible for sales or support.
Email3: Become an intercom pro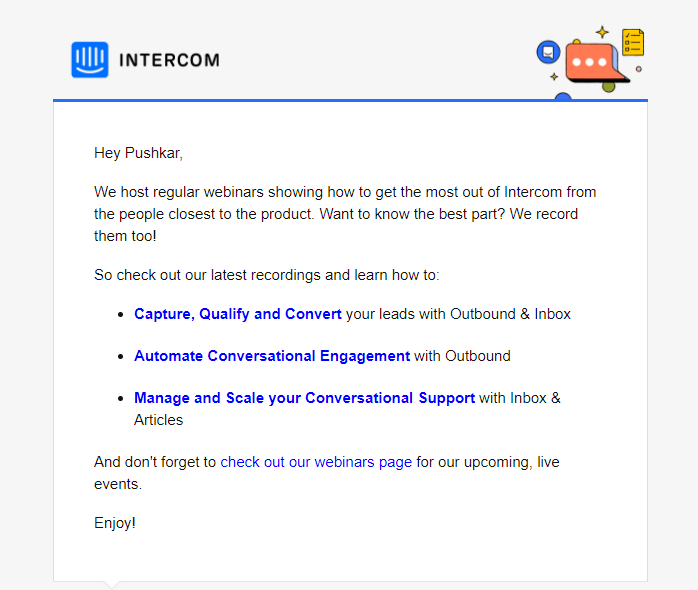 For the other users, they send a more generic email to a bunch of different user guides useful for sales and support communication.
Email4: Put your new data to work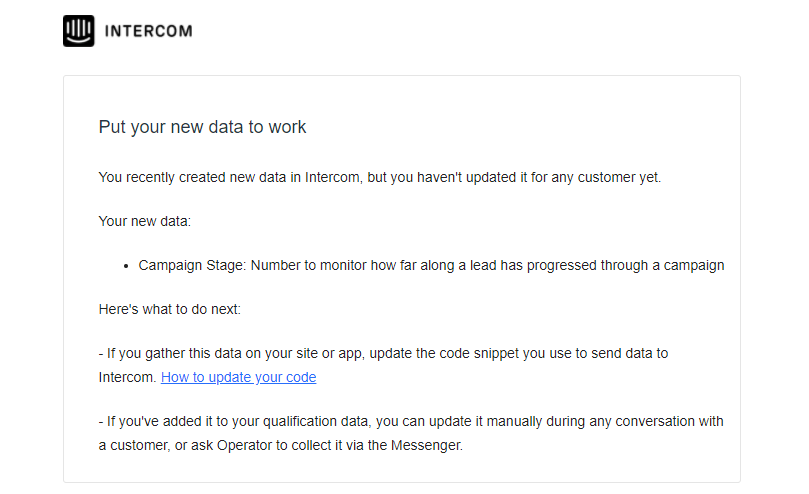 Intercom conversations are always highly contextual. For example, if you create any workflows or data fields on the platform, they will immediately message you to inform how you could be getting the most value out of those new configurations. Basically, this is a trigger based on your previous investment in the platform – new data that you just added.
Email5: New month, new features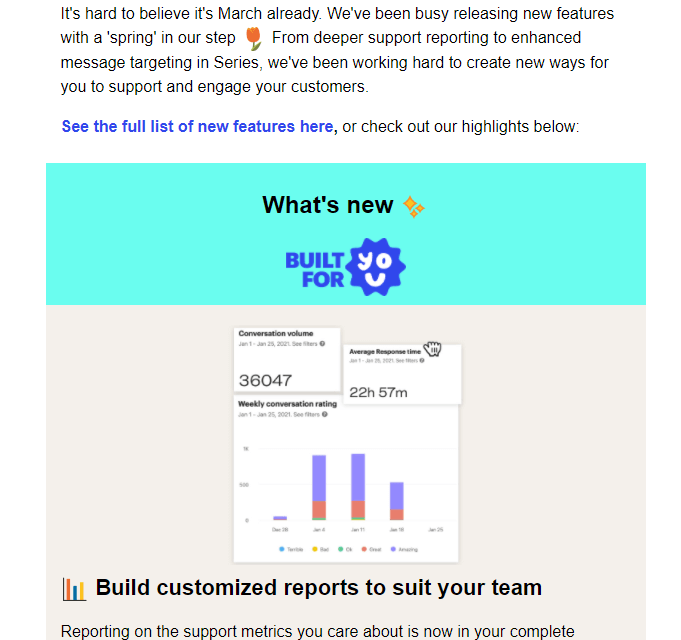 Emails like these will send you to variable rewards on the platform to strengthen your habit of using Intercom.
SaaS onboarding email sequence for getting started with SendGrid
Sendgrid is today one of the most popular platforms for sending marketing and transactional emails at scale. Many SaaS companies use SendGrid to send their own welcome email sequences. Plus SendGrid itself is known for a very smooth onboarding process.
So we can expect SendGrid to know a thing or two about welcome email sequence templates. Let's look at how SendGrid welcomes its own users.
Email1: Get started with email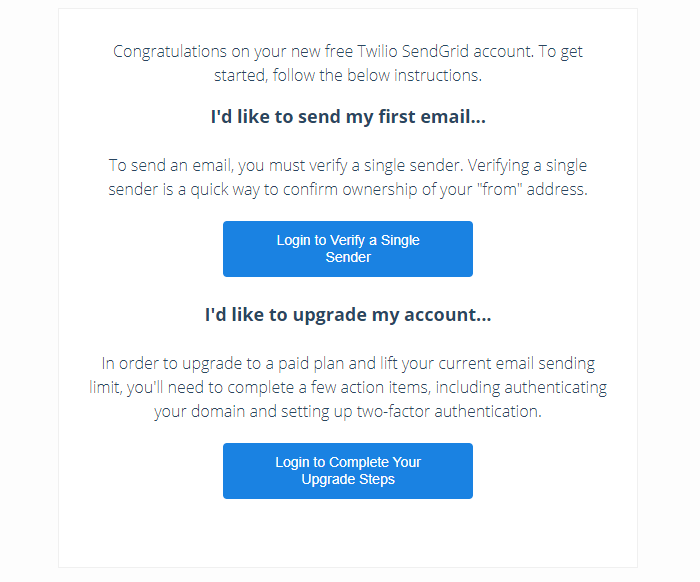 SendGrid is available as a freemium service. Where the free tier is also quite useful for small teams, early-stage startups. As their business scales, freemium users can opt for a premium subscription.
When a new user registers, SendGrid doesn't know very well if the new user is an early-stage startup or an experienced user looking to send 1 million emails per month. So their first email is designed to offer clearly articulated options to both personas.
If you're new to SendGrid, you can start exploring the platform by sending a quick test email. Else, if you already know what you are looking for, you can click on the second button and select a suitable plan.
Email2: Unlock more sending volume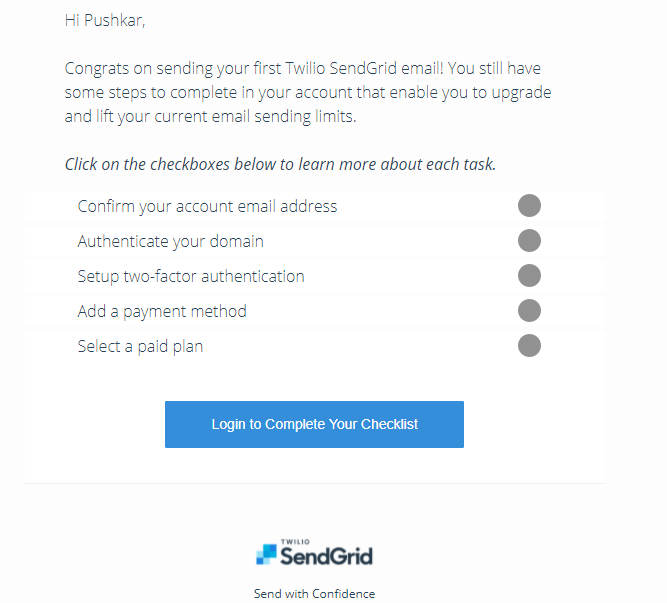 If you are new to sendgrid, their subsequent emails will walk you through the process to set up and secure your account. In fact the second email comes as a checklist of steps that you need to follow to fully explore sendgrid.
When you click on any item in the checklist, you will be taken to a very well documented user guide. Follow the steps in that guide to complete the referenced step.
Email3: Take these steps to upgrade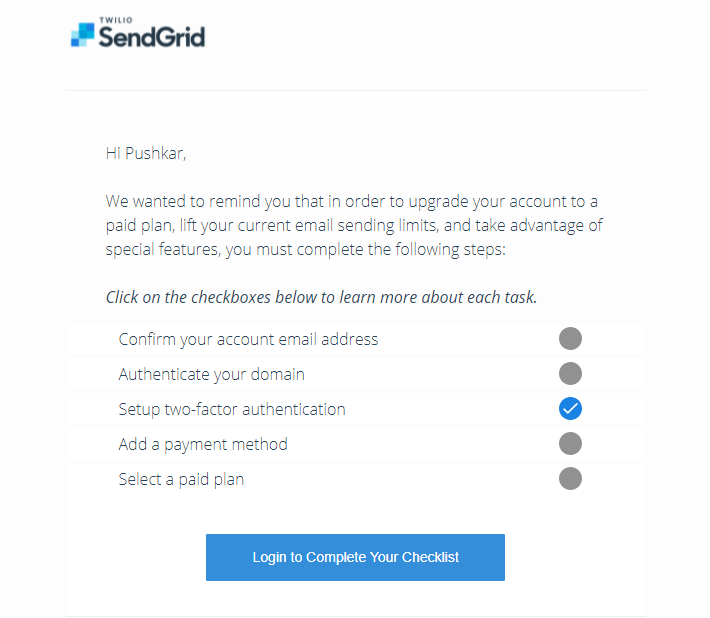 As you start to use sendgrid, you will get reminders to check of the remaining points from the 'getting started checklist'. The completed steps are clearly indicated, giving you a 'reward' for your previous efforts (investment as per the hooked model).

Automate on-boarding emails with SafeMailer
Use these welcome email sequence templates, as inspiration or even reference to create your own email sequence to hook your users. Once you decide on the content of your welcome email series, next question is – how do you automate it?
We can help. SafeMailer helps businesses to automate a variety of processes by connecting simple tools like Google sheets, docs, Gmail, calendars, websites, social media accounts etc. For example, our tools for cold email automation and mail merge are lightweight solutions that can be completely customized.
Customizable workflows can be modified and tweaked to connect with many different touch points in your onboarding process such as –
Lead created from your website
User sending message on social media platform
New user sign up within your app
User guides visited on your helpdesk
Onboarding steps completed on app dashboard
SafeMailer will connect all these pieces of the puzzle into a seamless onboarding workflow to track any user journey from sign up through different steps to get him hooked. SafeMailer also help you with many different kinds of email automation workflows,
Sounds interesting? You can explore more by connecting with out team for a demo. We can show you how to automate your drip email or even cold email sequences with SafeMailer.
FAQs: SaaS onboarding email sequence
Q: How many emails should be included in a SaaS onboarding email sequence?
A: The number of emails in a SaaS onboarding email sequence can vary, but generally, it should be no more than four or five emails. The sequence should be spaced out over a few days or weeks, depending on the complexity of the product.
Q: What should be included in a SaaS onboarding email sequence?
A: A SaaS onboarding email sequence should include a welcome email that introduces the user to the product and its key features. Subsequent emails should provide more detailed information on how to use the product, including tutorials or videos. The final email in the sequence should encourage the user to engage with the product and offer support if needed.
Q: How can a SaaS onboarding email sequence be personalized?
A: A SaaS onboarding email sequence can be personalized by using the user's name and any other relevant information that was gathered during the sign-up process. The emails can also be tailored to the user's specific interests or use cases.
Q: How can the effectiveness of a SaaS onboarding email sequence be measured?
A: The effectiveness of a SaaS onboarding email sequence can be measured by tracking key metrics such as open rates, click-through rates, and user engagement with the product. Feedback from users can also be collected through surveys or other means to identify areas for improvement.