Email marketing has proven to be one of the best marketing methods for businesses to boost their sales and generate revenue.
In fact, research by Campaign Monitor states that companies sending automated emails have generated 320% more revenue than non-automated emails.
However, it is quite confusing to choose an email marketing platform with a plethora of options available in the market.
Are you facing the same issue?
Well, then this post is for you. Here, we have discussed in detail how to choose email marketing platform for your business.
So, let's begin!
Why choosing the right email marketing platform is essential?
Though email marketing is the most effective marketing strategy, handling it manually can prove to be hectic. Hence, selecting the right email marketing platform is crucial to ease your tasks as well as improve your efficiency.
However, it is important to note that different businesses have different needs.
For instance, small businesses with limited budgets may prioritize affordability and simplicity in an email marketing platform. They may need basic features such as email templates, list management, and basic analytics, without the need for advanced automation or integrations.
On the other hand, medium-sized or large businesses may require a more robust and scalable email marketing platform that offers advanced automation, integrations with other marketing tools, sophisticated segmentation, and in-depth analytics. They may also require customization options to align with their branding and marketing strategies.
Hence, the platform that is best for one company may not necessarily cater to the needs of other businesses.
How to choose email marketing platform?
Now that you know that the right platform for one business may not necessarily be the best fit for another, let's take a look at the factors that you need to consider while selecting the perfect email marketing service for your business.
Goals:
First things come first, so, it's important to define your business goals and identify what you want to achieve with your email campaigns.
Are you looking to increase sales, improve customer engagement, or drive website traffic?
Understanding your goals will help you choose an email automation tool that aligns with your specific needs.
Features:
The second most important thing you should consider is the features offered by different email automation tools.
You need to check what features you presently require according to your business. The most common ones are pre-built templates, A/B testing, analytics, and integration.
Templates can make it easy to create professional-looking emails, while segmentation options allow you to target specific segments of your audience for more personalized campaigns. A/B testing can help you optimize your campaigns, and analytics can provide insights into the performance of your emails.
Integration with other tools you use, such as CRM or e-commerce platforms, can streamline your workflow and improve efficiency.
Ease of access:
Evaluating the usability of the email automation tool is also important when choosing an email marketing platform.
Does it require a lot of technical knowledge or coding skills to set up and use?
Is the interface intuitive and user-friendly?
Consider the learning curve and the level of expertise required to effectively utilize the tool. A user-friendly tool can save you time and effort in the long run and make your email automation process smoother.
Deliverability:
When evaluating email automation tools, also look for features that can help you improve email deliverability.
For instance, a cold email automation tool like SafeMailer will allow you to humanize your sending pattern as per your recipient's time zone to help you avoid spam filters.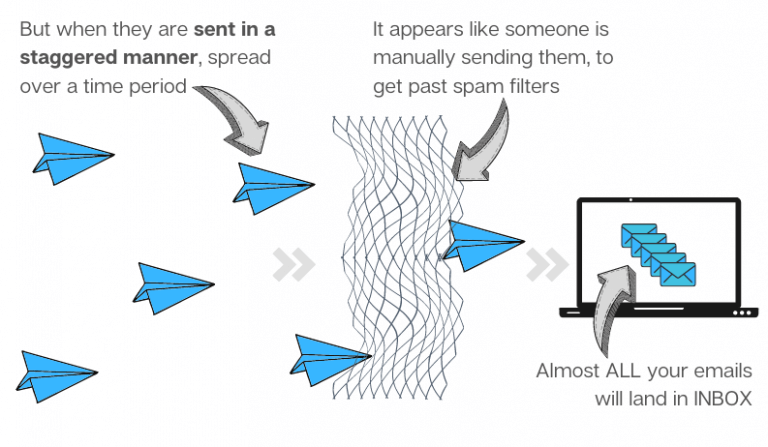 Scalability:
No matter whether you have a small or mid-sized business, it will grow one day. So, consider the scalability of the email automation tool.
Can it handle your current needs in terms of the number of subscribers and emails sent per month? Think about your future growth and whether the tool can accommodate increasing subscriber lists and higher email volumes without compromising performance or incurring additional costs.
Choosing a tool that can grow with your business can save you the hassle of migrating to a new tool later on.
Price:
As a business owner, it is important to ensure that the tool's pricing is reasonable and fits within your financial constraints.
Look into the pricing model of the email automation tool. Some tools offer tiered pricing based on the number of subscribers or emails sent, while some tools like SafeMailer offer free plans.
Just make sure to understand any potential hidden charges, such as additional fees for exceeding subscriber limits or sending over a certain number of emails. Consider your budget and
Customer support:
With all the above-listed options customer support is also crucial. You may sometimes have queries or technical difficulties. Hence, it is crucial to look for a service that is approachable and will address your queries on time.
So, make sure to check the customer service options and online resources provided by the email automation tool.
Does it offer reliable customer support through channels such as email, chat, or phone? Are there online resources such as tutorials, documentation, or a knowledge base that can help you troubleshoot issues or learn how to use the tool effectively?
Conclusion:
While addressing the question, "How to choose email marketing platform" it is a critical decision for any business or organization looking to optimize its email marketing efforts.
By comparing different options, and understanding your unique requirements, you can make an informed choice that will enable you to effectively engage with your subscribers, drive conversions, and ultimately achieve your email marketing objectives.
So, invest the time and effort into selecting the right email marketing platform, and watch your email campaigns thrive!