Are you planning to send highly personalized emails to a large number of people? Then a mail merge tool can help you automate these emails and save you a lot of time. If you are new to mail merge process, let's first look at what it is and how it works.
Table of content
1. How mail merge works
2. Mail Merge Process
3. Mail Merge examples
3.1 Sales and marketing
3.2 Job search
3.3 Managing events/webinars
3.4 Announcement
4. Using Gmail, Google Sheets and Docs
Mail Merge Process
A mail merge tool typically combines audience data from a spreadsheet with a predefined email template to created highly personalized emails. For example, you can use an Excel spreadsheet for listing all your email recipients and their personal data to be used in email text, such as – name, company name, cite, designation, role, interests etc.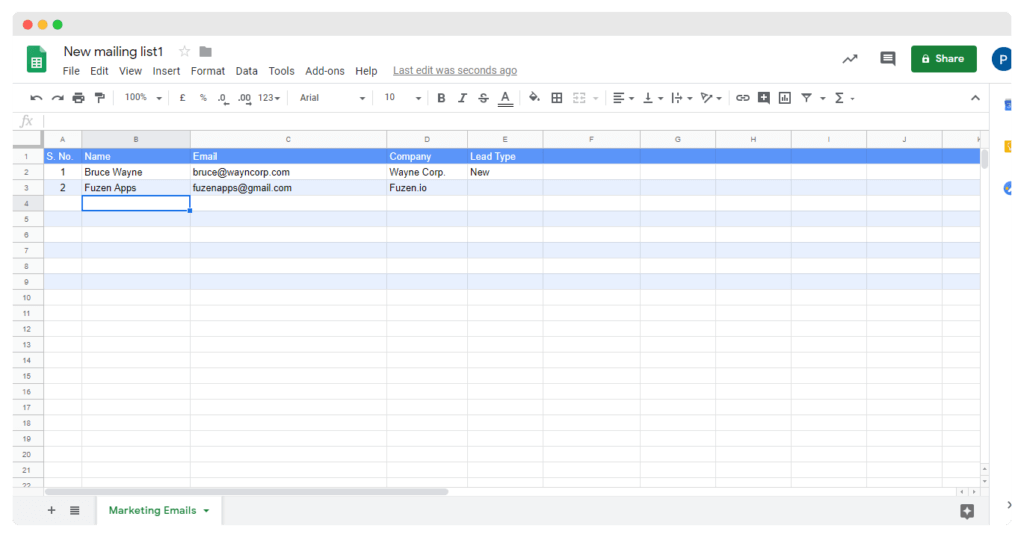 Then you will have an email template with your standard email text and a few personalization tags (or dynamic tags). For example, #First Name# can represent a dynamic tag for a recipient's first name.
When the email text is personalized, dynamic tags from the email template text are replaced with actual information of a recipient. For example, #First Name# will get replaced by 'Cesar' and #Company Name# will get replaced by 'Flux Media' for the first recipient from our example mailing list.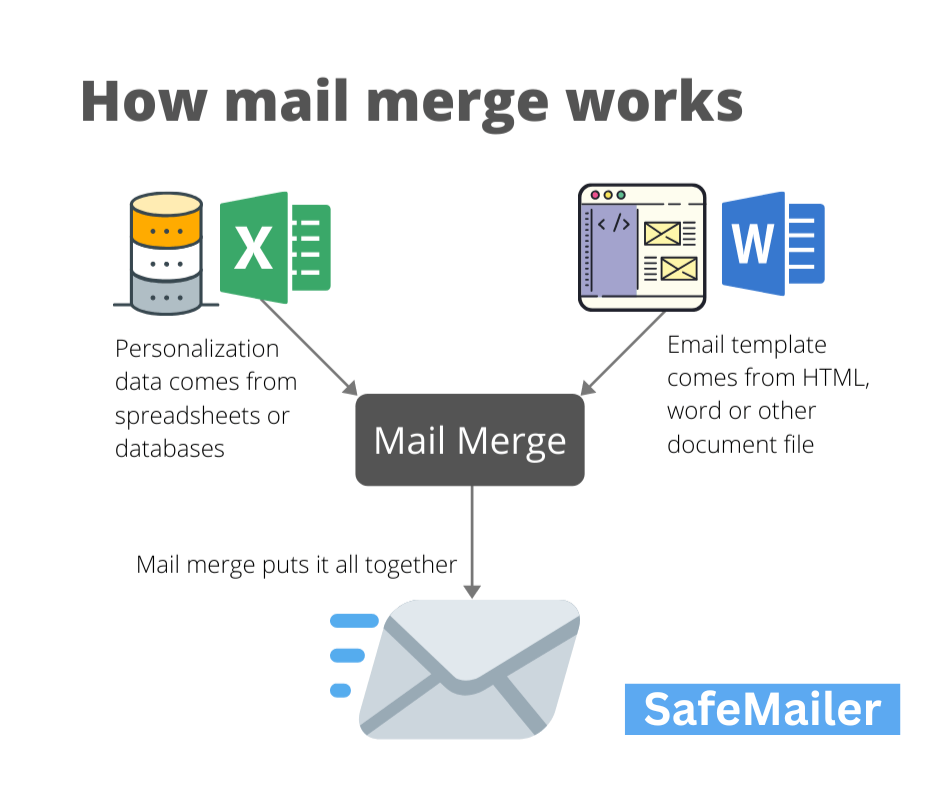 Finally your mail merge tool need to integrated with an email service to send the personalized emails generated from the mail merge workflow. For example, SafeMailer's mail merge tool connects Gmail, Google Sheets and Docs to send highly personalized emails to a large number of people.
Mail Merge Examples
Now that we know how mail merge works to create highly personalized emails, let's look at some examples of how to put it to work.
Sales and marketing
Your marketing emails or cold sales emails are going to be effective only if they are personalized. Without personalization, there is even a significant risk that your cold emails will be filtered as spam.
You can easily achieve this personalization on large scale with a mail merge tool. Most commonly people use #First Name# and #Company Name# for personalizing cold sales email. But if you have more data available on you recipients, you can create highly personalized and highly effective cold sales emails.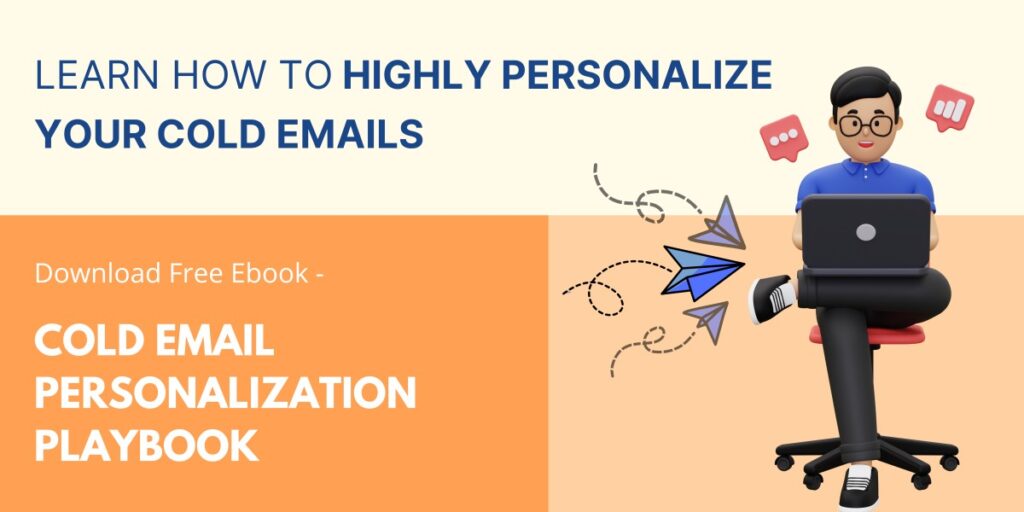 Job search
If you want to send job applications to a bunch of different companies and recruiters, asking about open positions, your emails must be personalized.
Apart from a personalized email text, you would also want to attach your resume, a cover letter and maybe some other optional attachments like project portfolio or documentation of your past work. In such case your mail merge tool should also be capable of incusing personalized attachments.
One way to do this is to list the attachments to be included in your recipient list spreadsheet. So the mail merge software will send certain email attachments only to selected recipients.
Managing events / webinars
If you are planning an event or a webinar for hundreds of people, it would be unthinkable to manually send hundreds of invites. Instead, a mail merge tool will help you to easily send personalized email invites to all your recipients.
In such cases you should also configure a follow up or reminder email just a few hours or one day before the actual event, as a gentle reminder to your webinar attendees. You would also want to use a mail merge tool that can connect with your webinar services – such as Zoom, GotoMeeeing etc.
Announcements
You can also use mail merge process for broadcasting major announcements to people in your organization – such as school, university, company etc.
For example – in case of university exams, when you want to send the exam schedule to all the students. A personalized announcement to each student will only inform him about exam schedule of the courses to which he has signed up for.
Using Gmail, Google Sheets and Docs
Any mail merge tool works by combining three basic tool – spreadsheets, email template and email service. All three of these building blocks for a mail merge workflow are readily available in a Google account.
Google Sheets can be used for creating mailing list with personalization data for recipients.
Google Docs allow us to quickly create email templates with personalization (dynamic) tags.
And finally, Gmail can be used to send the actual personalized emails.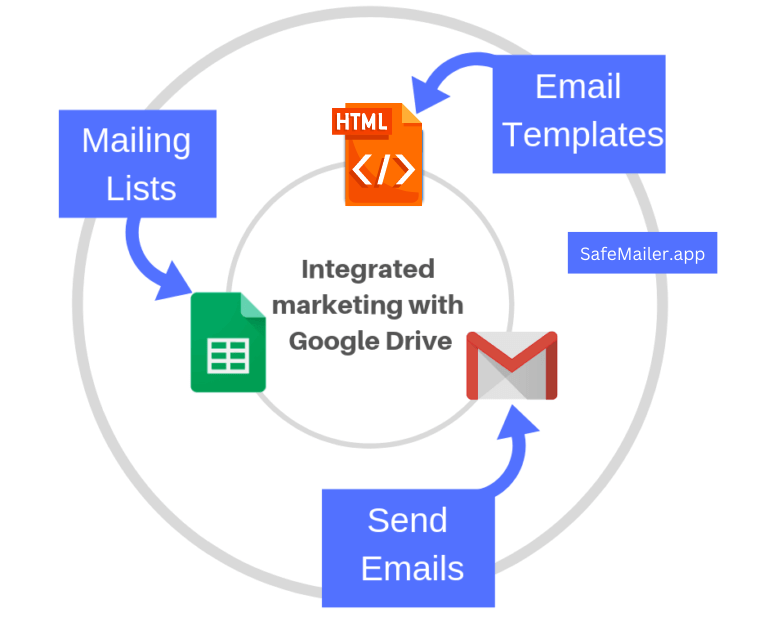 SafeMailer combines these three Google apps to create a lightweight mail merge tool in your Google Drive. Moreover it also allows scheduled sending of your mail merge campaigns – to enable a powerful cold email automation workflow.
You can try this powerful mail merge process to automate your email outreach and still ensure high deliverability of your emails. Further, this app can be easily customized as per your specific requirements. To find out how you can customize our mail merge app, schedule a demo with our consultant at any convenient time.