SafeMailer's cold email automation app turns your email account into a highly productive email marketing platform.
After setting up your cold email automation app, next you can – create new mailing lists, email templates, and multiple cold email campaigns.
Now, let's look at how to create a new email template for your cold email campaigns.
Add a new email template #
Go to the Email Campaigns Dashboard from your cold email automation app. Then click on the 'Manage Email Templates' button.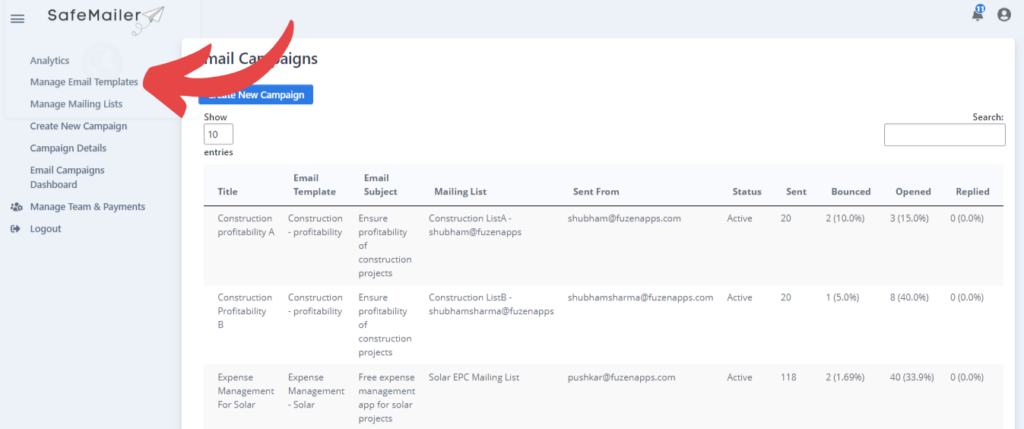 In the new email template page, you'll see a simple HTML editor. Here you can easily create your email template.
Simply add a "Title" for your email template. Then add a "Subject" which will be used as your default subject line in case you don't add a subject while creating the campaign.
Then in the "Email Content" field type your email. You can use various features from the menu bar like font, add image, etc. to create a good-looking email template.
You can personalize your email by using short codes. SafeMailer allows smart selection of frequently used short codes while creating email template. These frequently used short codes include Name, Email, Company and Unsubscribe.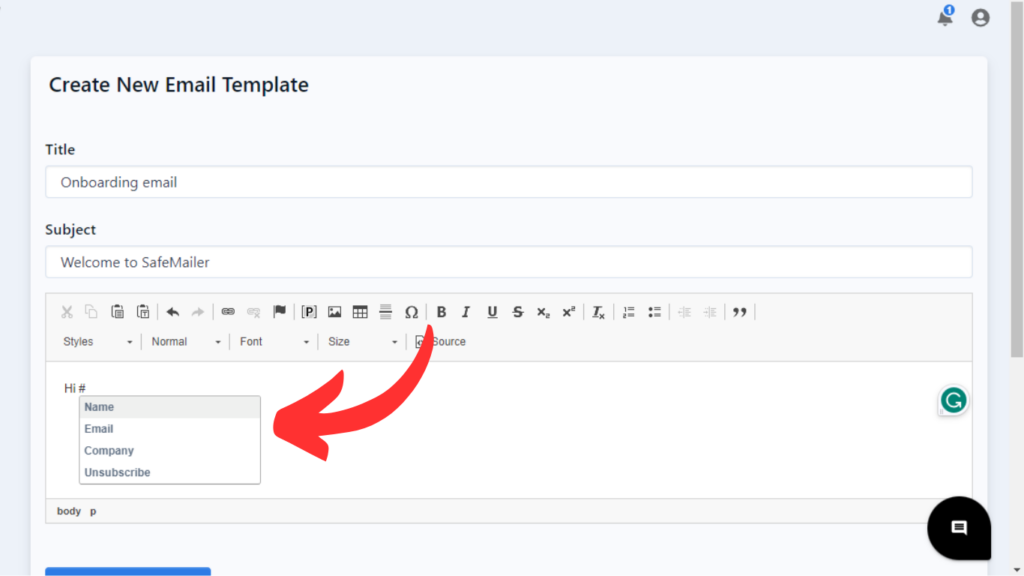 For smart selection of these short codes simply add a "#" after which a drop-down with frequently used short code will be visible. You can select and add any required short codes by simply clicking on it.
If you have added any additional columns to your mailing list for personalizing your campaign, you can insert the data from those columns to your emails by simply adding #COLUMN_TITLE# tags to your template.
For example, if the column title is "User guide link", then add the #User guide link# tag to your email template.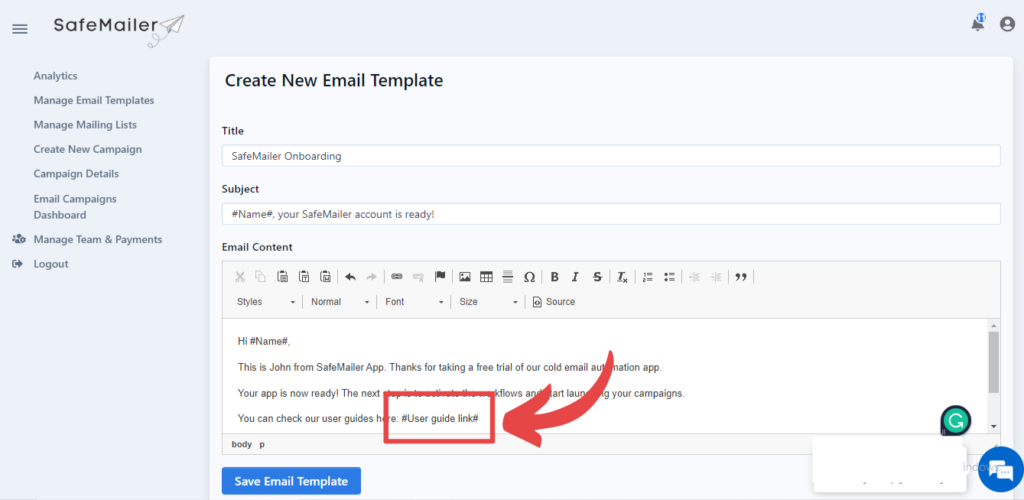 After adding your email content simply click on "Save Email Template".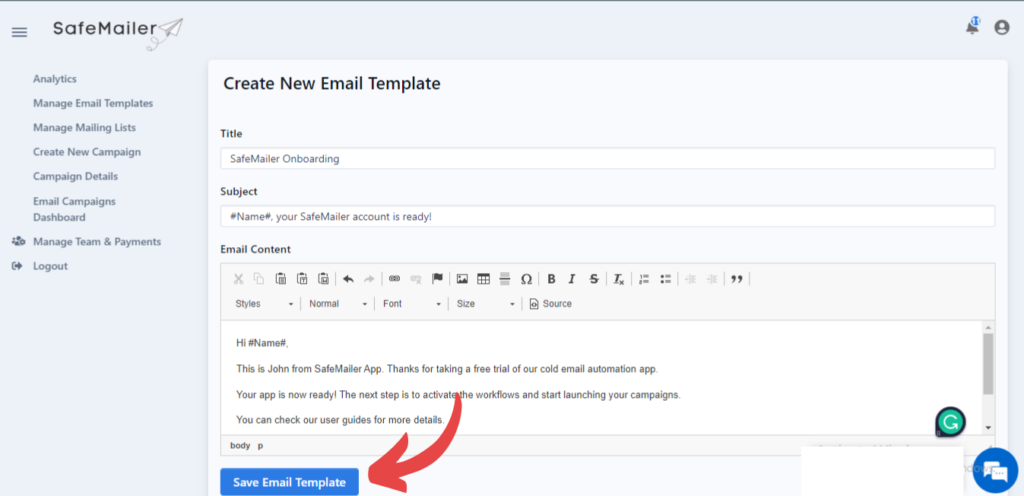 You will be redirected to the "edit email template" window. You can immediately make changes to your template from here and click on "update" to save the new version.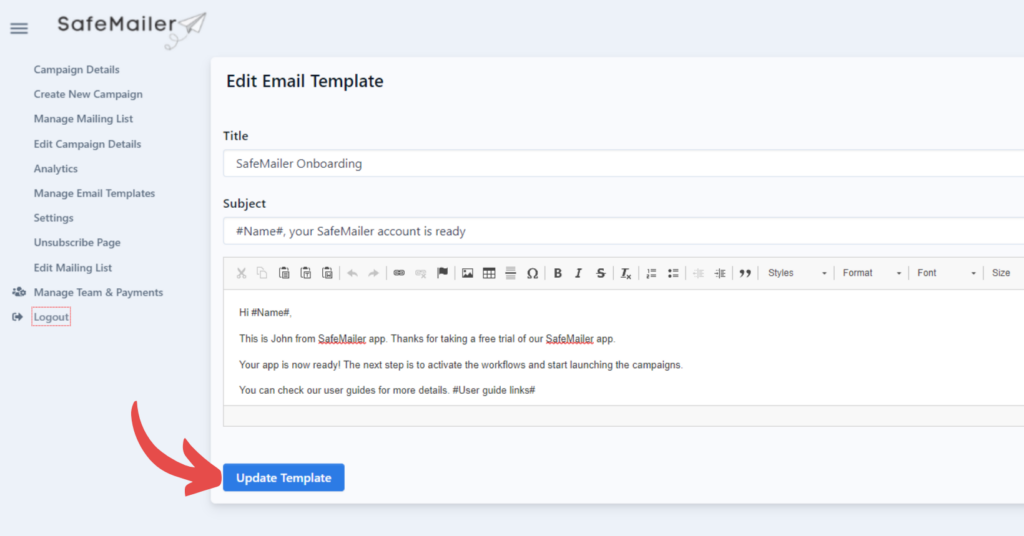 That's it! After you type your email content in this HTML editor, you can use it for any number of email campaigns.
In case, if you want to revisit your email templates in the future, you can do so by clicking on the "manage email templates" tab.
You will see a list of all the email templates right below the "Create new email template" section.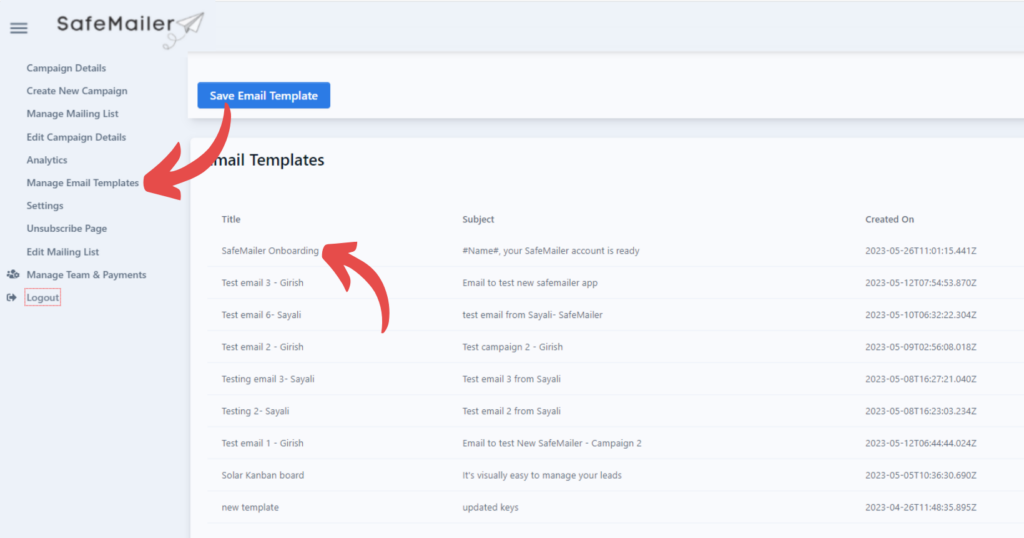 Simply, click on the email list name you want to update or delete and you will be redirected to the "Edit email template" window.