SafeMailer's cold email automation app turns your Gmail & Google Drive accounts into a highly productive email marketing platform. It works as a mail merge tool within Google Drive, combined with the campaign schedule.
All your mailing lists are managed within Google Spreadsheets, you can create nice looking email templates using easy to use HTML editor. All these elements are well structured within your Google Drive. SafeMailer's automation workflows connect these tools with your Gmail account to send out marketing emails that will achieve a very high opening rate.
Now, let's go through the first steps to setting up your cold email automation app.
Create the cold email automation app on SafeMailer dashboard #
First, go to the SafeMailer website (i.e. safemailer.app) and then click on "Get started for FREE" or "Try For Free" as shown in the image below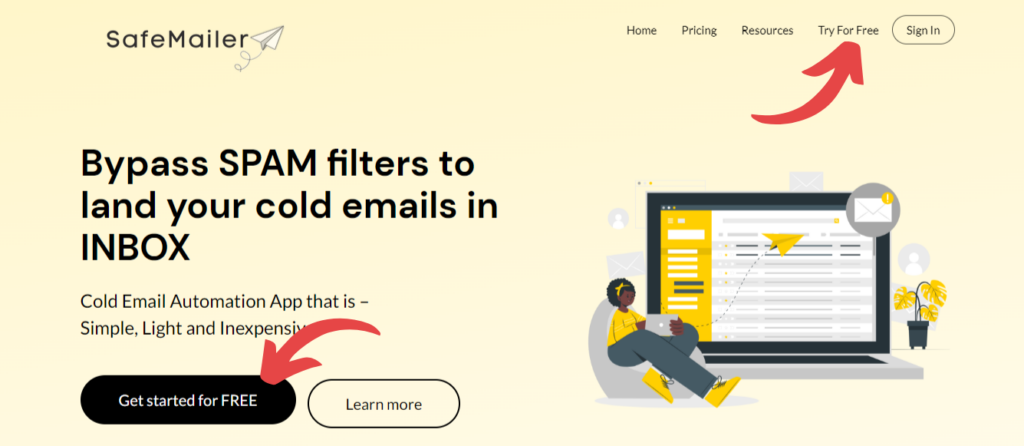 SafeMailer offers a 7 days free trial for this app. You can click on the 'Get started for FREE' button to start your trial. You can use the app for free for 7 days, without credit cards. Afterwards you will need to upgrade to a paid plan to continue using the app.
When you click to 'Get started for FREE', SafeMailer will attempt to install the app within your Google Drive. So it will try to connect to your Google Drive account. If your Google Drive is not already connected to SafeMailer, you will be asked to authorize the required connection. Your authorization will allow SafeMailer to add the cold email automation files and workflows to your Google Drive.
Please provide the required permissions and then again submit the form to create new app.
Email Campaigns Dashboard #
When the new app is added to your account, you will be taken to the email campaigns dashboard within the cold email automation app.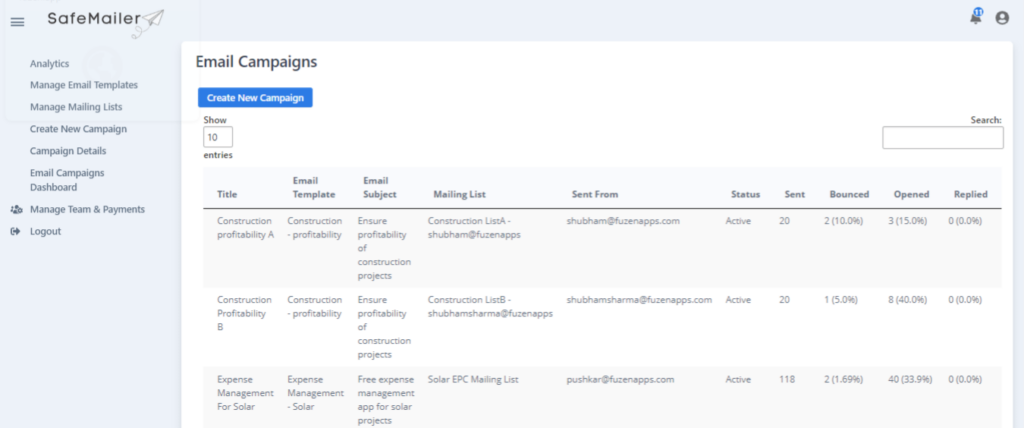 You can create and manage all your email campaigns, mailing lists, and email templates from this dashboard. At the left side of the dashboard, you will also see a few resources to get you started, including shortcuts to these user guides and demo request.
When you install the app, you will first see a dummy 'Test Campaign' on the dashboard, which is there for your reference. From this dashboard, you can next create new email templates, mailing lists and cold email campaigns.